Dining
Discover The Best Restaurants In Isla Mujeres
Ixchel Beach Hotel's Kalak Restaurant Bar, "A Place to Be," offers outdoor seating with ocean views set beside the best beach on Isla Mujeres. A family setting ideal for casual dining and relaxation, the restaurant specializes in the lively and varied tastes of Quintana Roo for breakfast, lunch and dinner. The friendly bar offers discriminating guests a wide variety of cocktails and tropical drinks.
On-Site Dining
SAVOR OUR VERY ON ISLA MUJERES RESTAURANTS
Ixchel Beach Hotel features onsite dining with outdoor seating showcasing ocean views and the best beach at our restaurant on Isla Mujeres. Serving a dynamic, diverse menu, the family setting is ideal for casual dining for breakfast, lunch and dinner.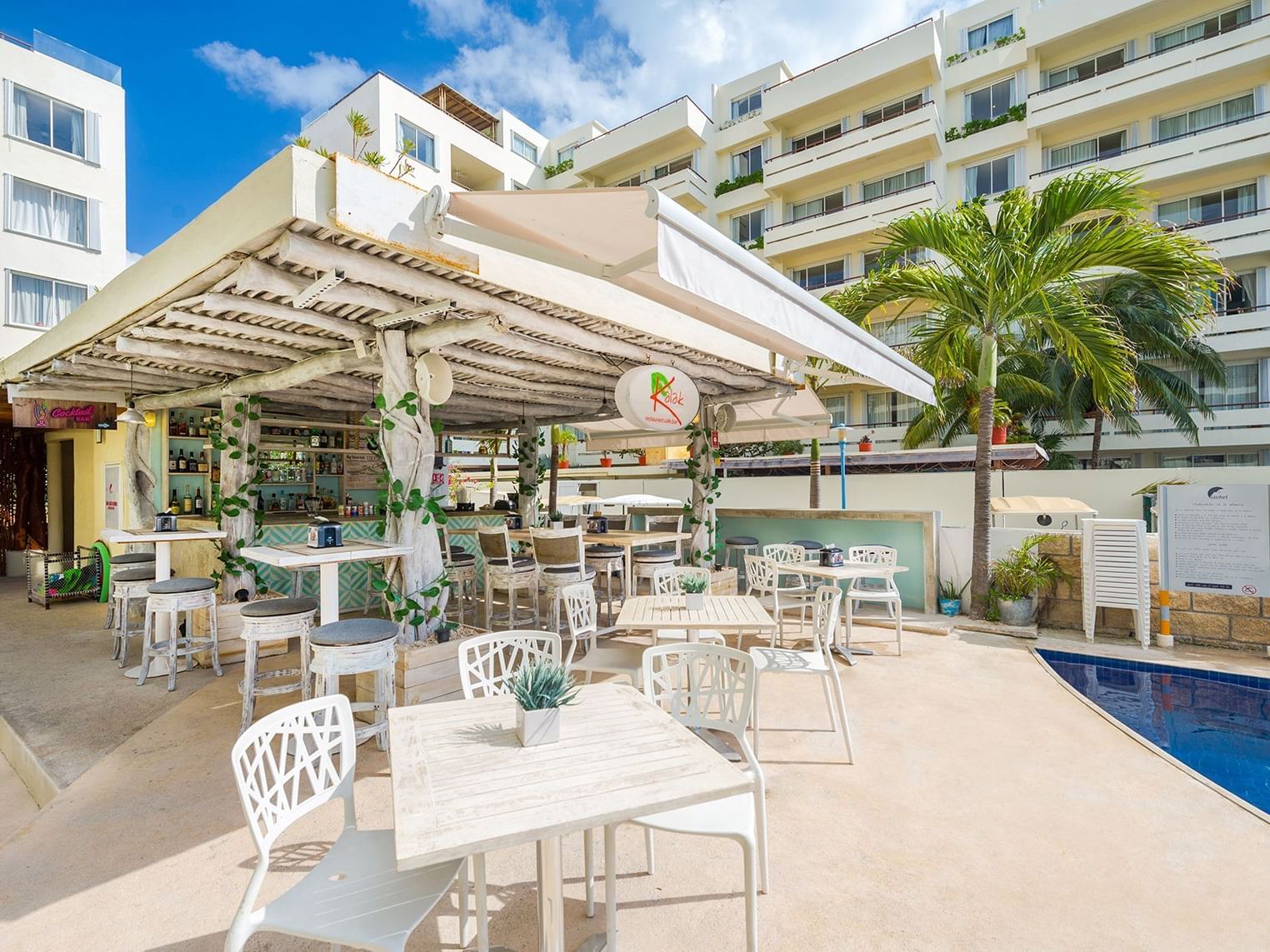 Kalak Restaurant Bar
Kalak at Ixchel Beach Hotel is the Hotel's main restaurant where you and your family can enjoy a casual dining and fun for everyone, whether for breakfast, lunch and dinner, enjoying a view of the best beach in Isla Mujeres (North Beach). Experience a selection of tastes as vibrant and eclectic as Quintana Roo. Taking full assurance that our food is prepared with the highest standards of quality and hygiene. Cozy bar operating and East and West tower of the Hotel, offer its discerning guests a variety of cocktails and tropical drinks served as anywhere else on the island in 14oz cups. Indulge in the wide variety of drinks with our promotions throughout the year while enjoying the best ocean view.
Off-Site Dining
RESTAURANTS IN ISLA MUJERES - EXPERIENCE THE TOP RESTAURANTS IN ISLA MUJERES
Ixchel Beach Hotel offers guests easy accessibility to many delicious downtown restaurants and bars on Isla Mujeres, showcasing a variety of international cuisines. Most establishments allow guests of the hotel to charge meals and drinks to their room as an added convenience.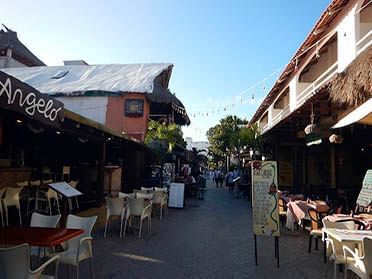 ANGELO
Restaurant Bar, Pizza, Pasta & Steak House
Discount Pay Direct
Daily - 15:00 – 22:30
Hidalgo St., Downtown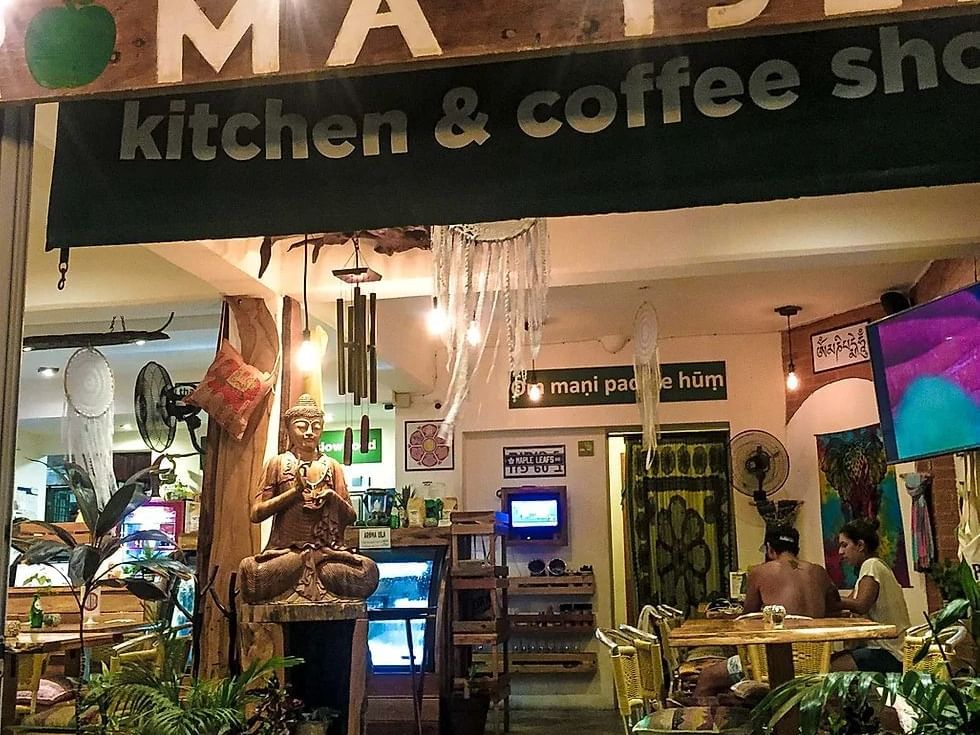 AROMA ISLA
Indian, Mexican, Asian, Israeli, Suitable for vegetarians, Vegan options, Gluten free options
Sign the bill & charge it to your room
Daily - 07:30 - 23:30
Hidalgo St., Downtown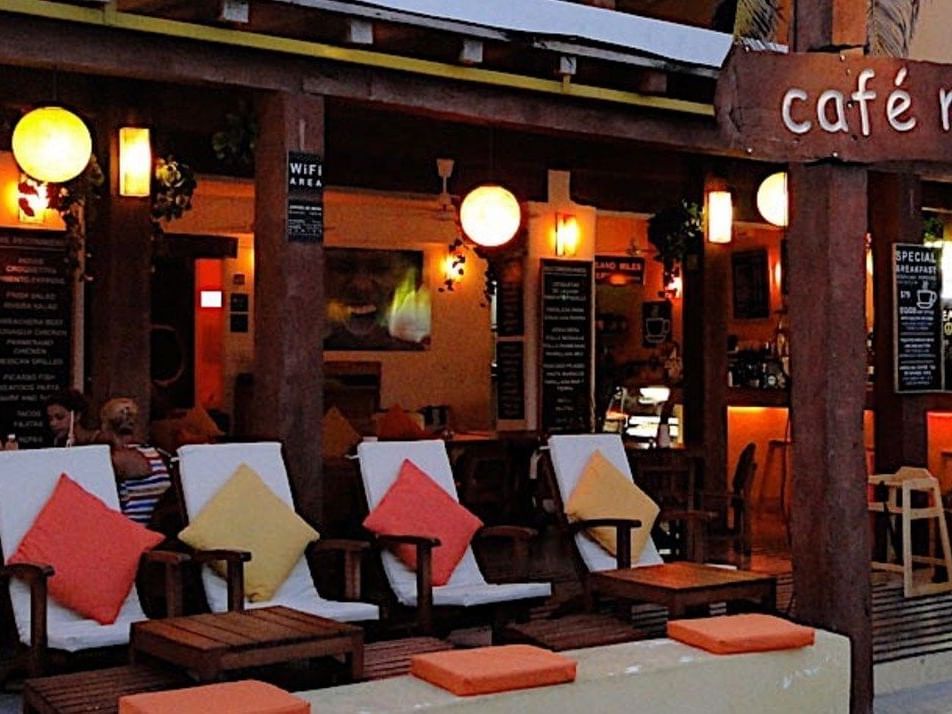 CAFÉ MOGAGUA
International cuisine with a Mexican and Spanish touch. Cafe & Restaurant Bar
Sign the bill & charge it to your room
Daily - 07:00 - 23:00
Juarez & Madero Corner, Downtown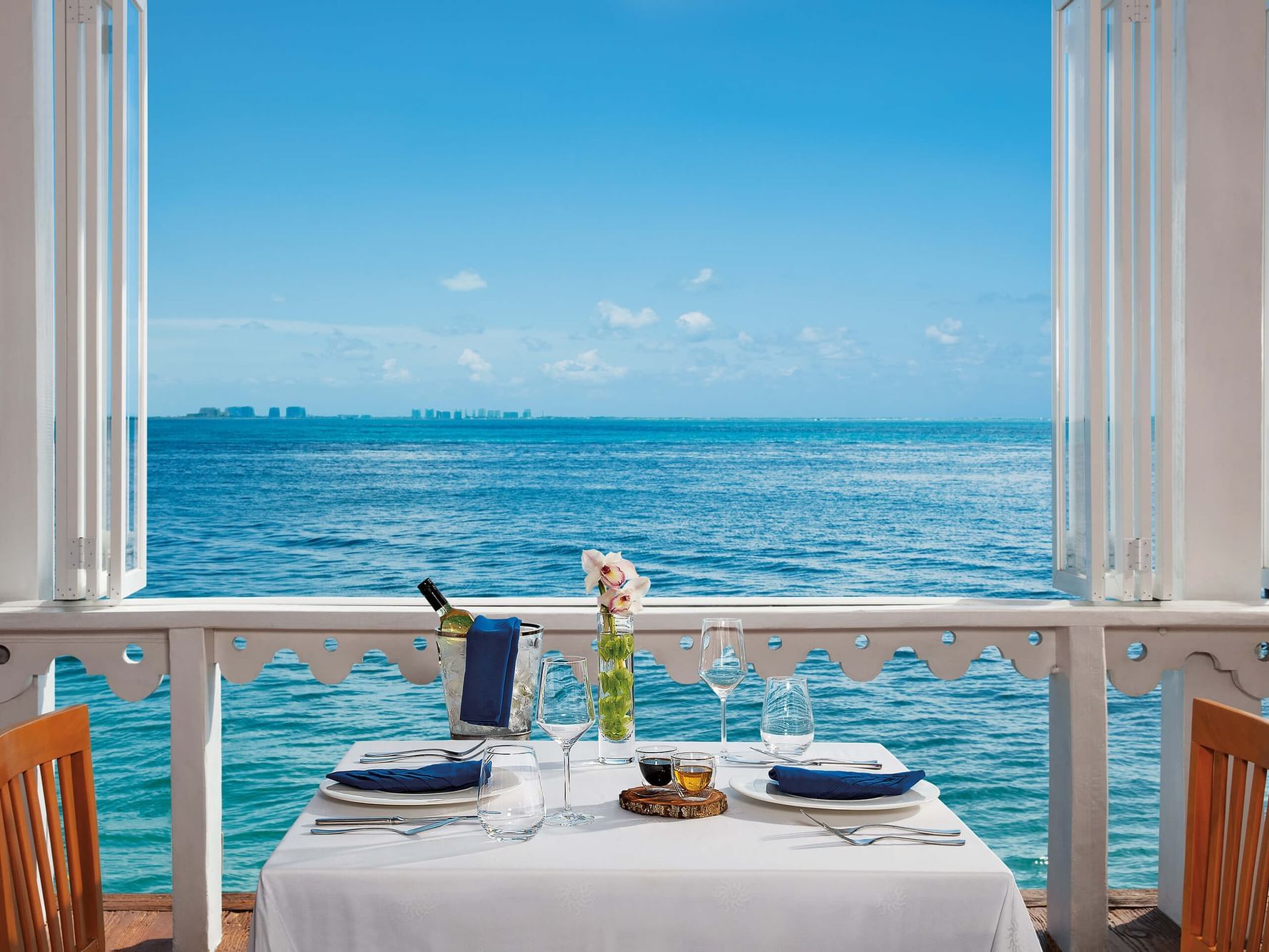 CASA ROLANDI
Upscale Restaurant with an Italian & Swiss Culinary Experience
Sign & Charge directly to your room. (Reservation Required)
Daily from 07:30 - 10:30 for Breakfast | 12:00 - 22:30 for Lunch or Dinner
West Shore Road, Sac Bajo at Zoëtry Villa Rolandi Hotel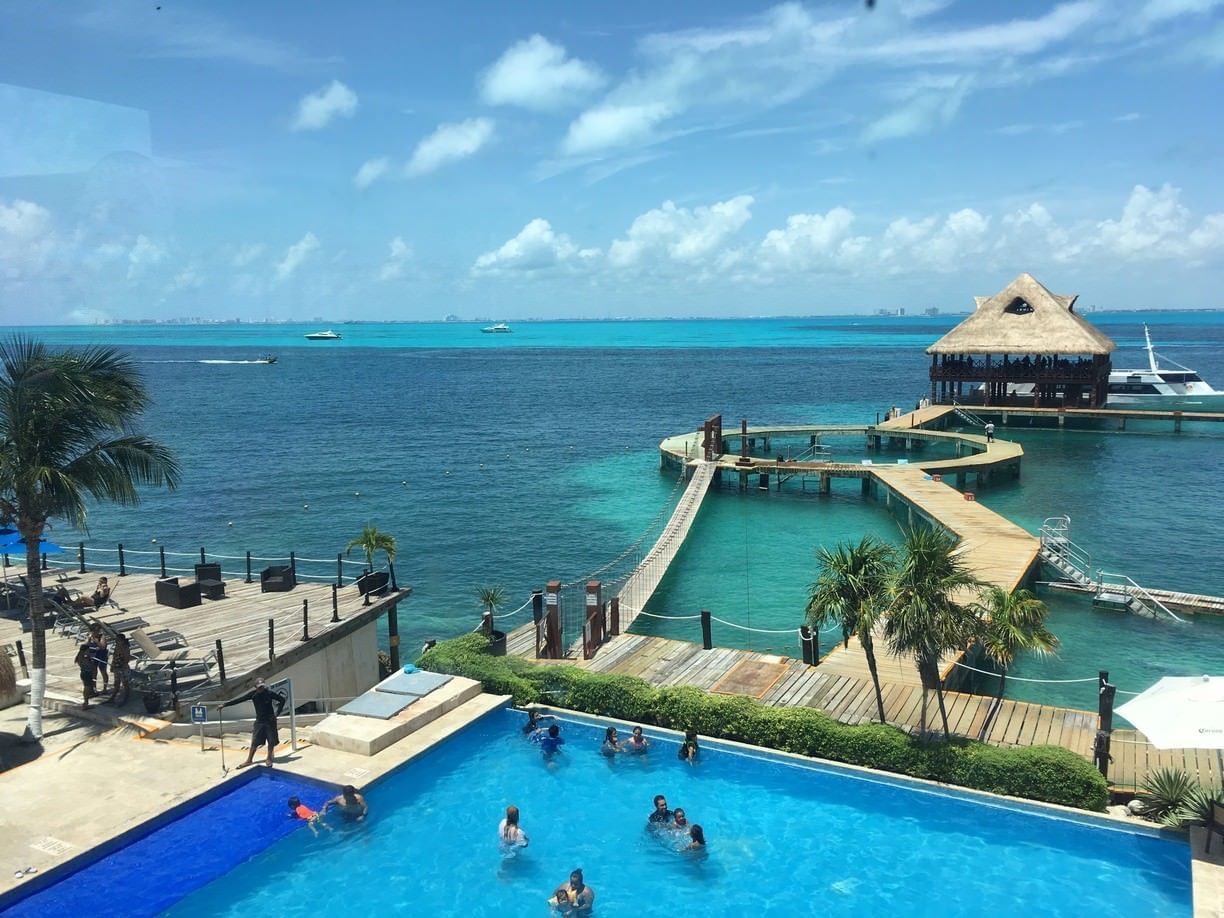 DOLPHIN DISCOVERY
Dolphinarium & Animal Encounter
Sign the bill & charge it to your room
Daily - 10:00 - 17:00
West Shore Road, Sac Bajo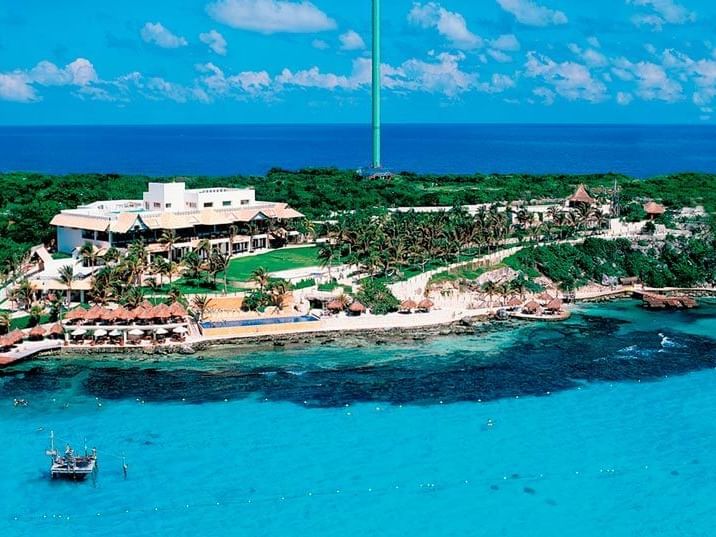 GARRAFON
Nature Park & Water Activities
Sign the bill & charge it to your room
Daily - 10:00 - 17:00
Southwest Road, South Point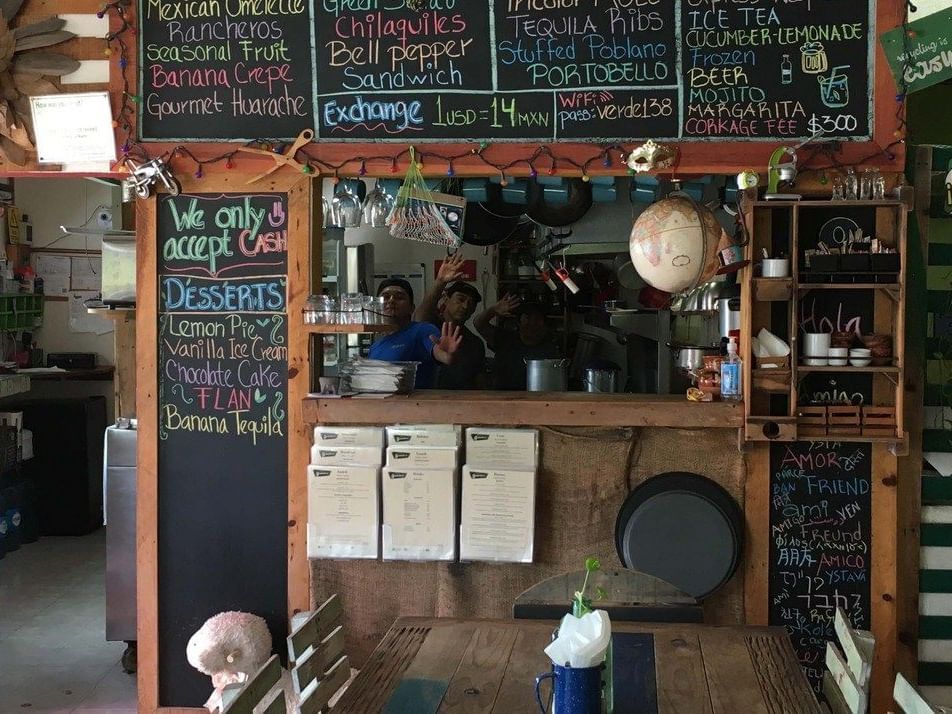 GREENVERDE
Mexican style dishes from Mexico City with an authentic Isla flavor adding a home vibe.
Sign the bill & charge it to your room
Daily - 09:00 - 16:30
Rueda Medina Av., Mid Island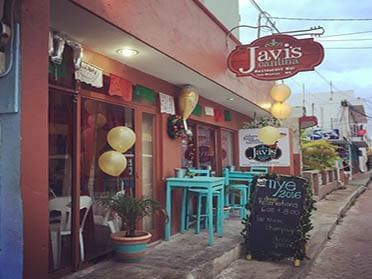 JAVI'S CANTINA
Local cuisine, Mexican, Caribbean, Seafood, Grill, Vegetarian Friendly
Discount Pay Direct (Cash Only) (Reservation Required)
Daily - 17:00 - 22:00
Juarez St., Downtown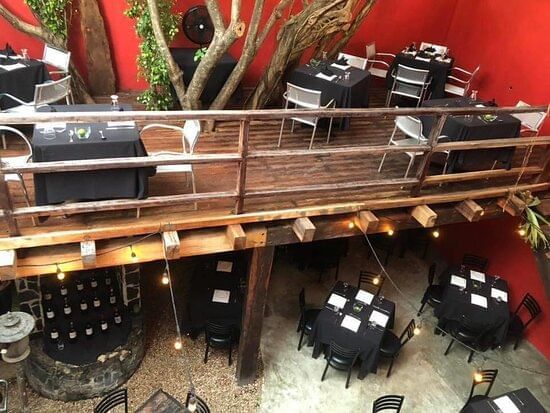 LIMÓN
Fine Restaurant with International Cuisine.
Discount Pay Direct (Cash Only) (Reservation Required)
Daily - 15:00 - 21:00
By Colonia La Gloria, Mid Island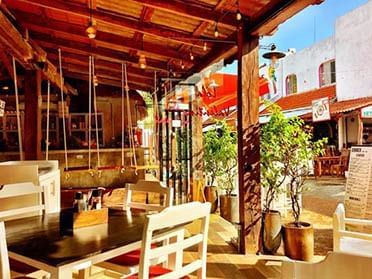 LOLA VALENTINA
Restaurant Bar with Mexican Classic & Caribbean Specialties.
Discount Pay Direct (Cash Only)
Daily - 08:00 - 23:00
Hidalgo St., Downtown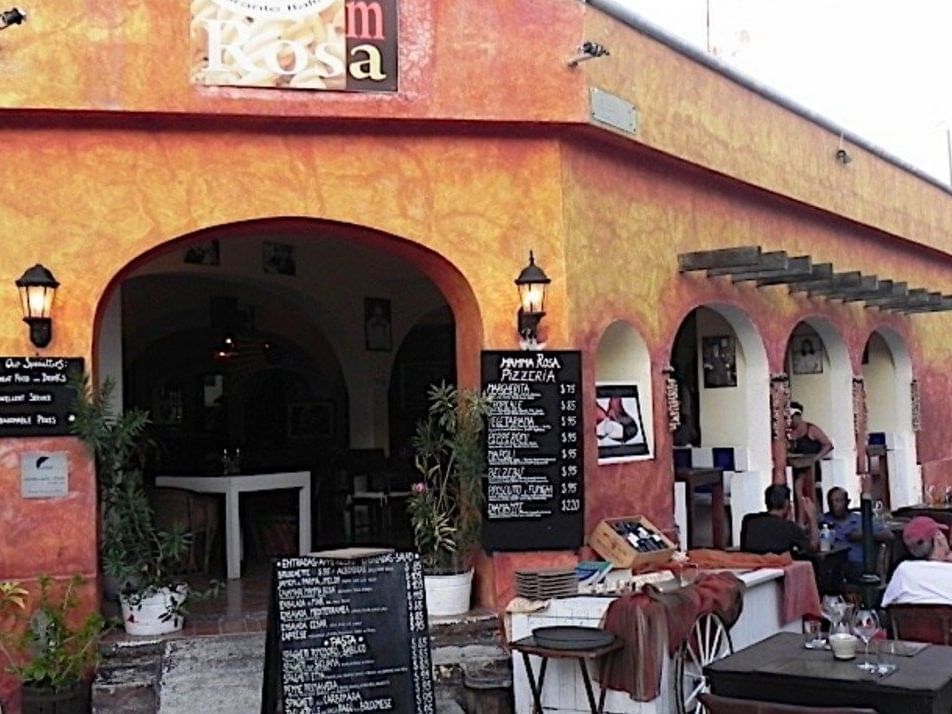 MAMMA ROSA
Restaurant with Traditional Italian Cuisine
Discount Pay Direct (Cash Only)
Daily - 16:30 - 22:30
Hidalgo St., Downtown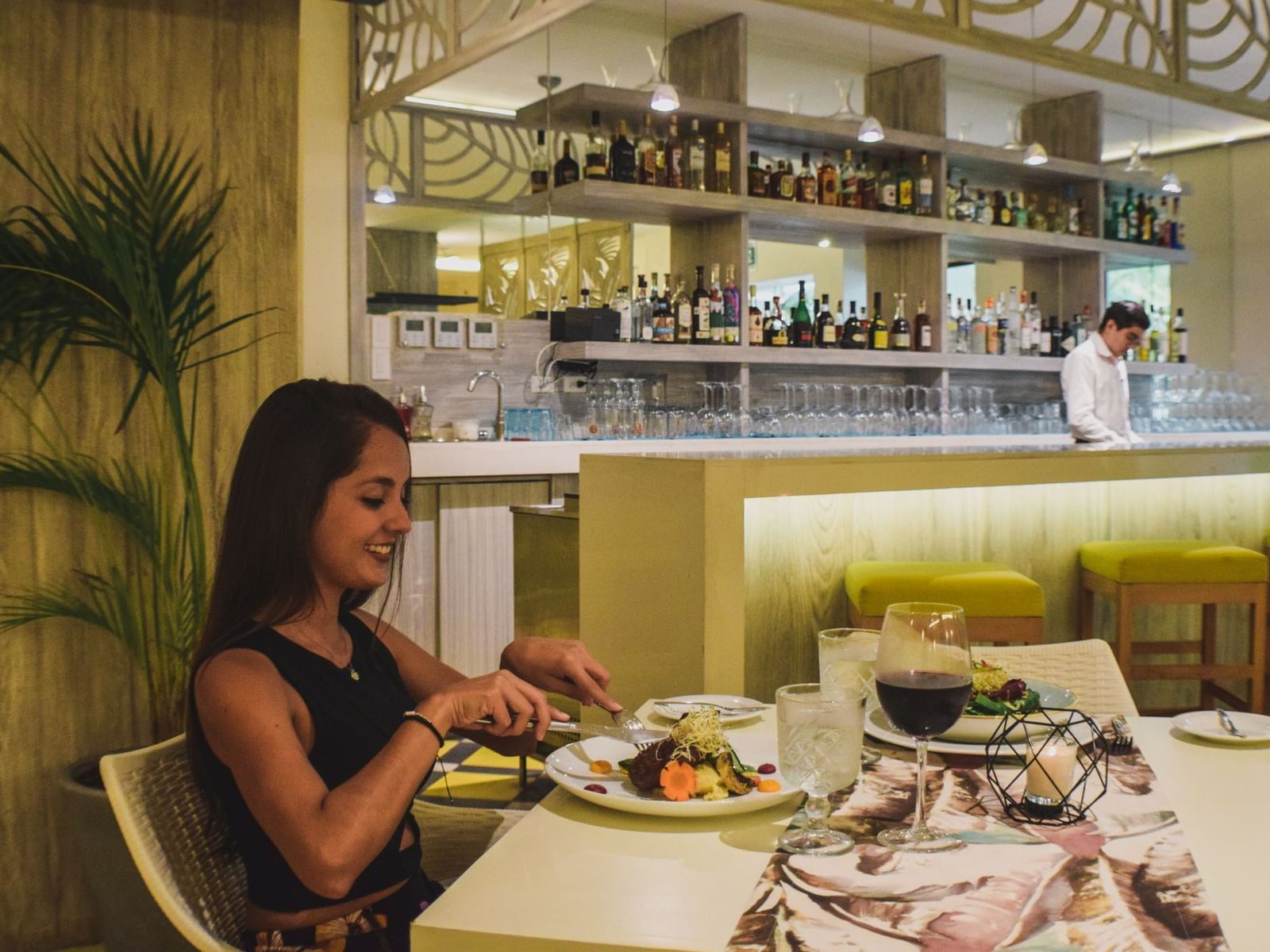 NUMA
Fine Restaurant with Mexican Contemporary Cuisine & Caribbean Twists.
Sign the bill & charge it to your room (Reservation Required)
Daily - 17:00 - 21:00
West Shore Road, Sac Bajo at Izla Hotel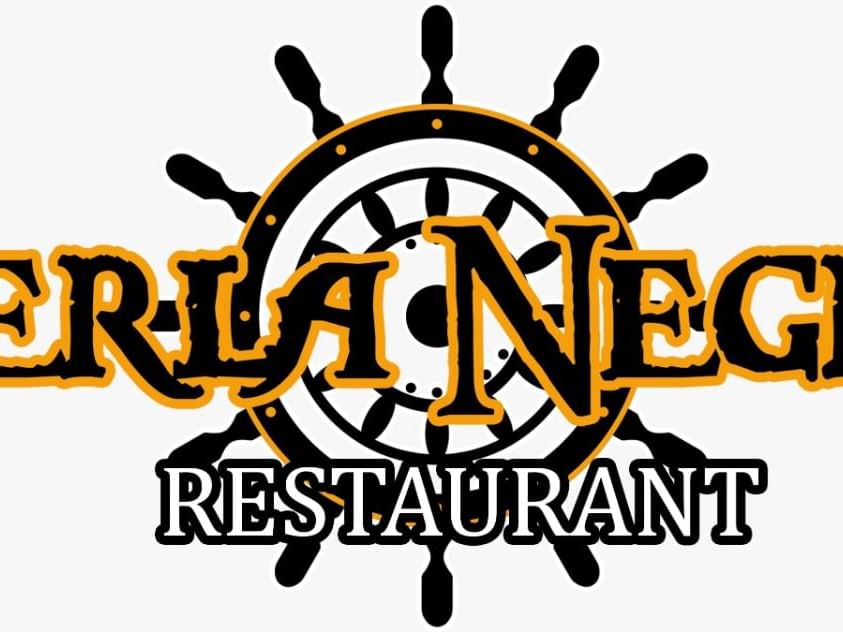 PERLA NEGRA RESTAURANT
Seafood Restaurant with Regional Kitchen
Discount Pay Direct
Daily - 10:00 - 18:30
Rueda Medina Av., Downtown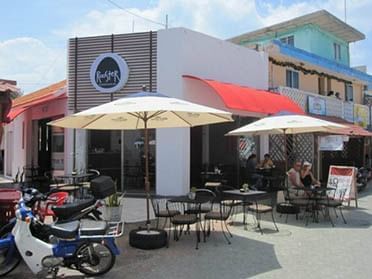 ROOSTER
American Contemporary Cafe & Coffee Shop.
Sign the bill & charge it to your room
Daily - 07:00 - 23:00
Hidalgo St., Downtown
SARDINIAN SMILE
Italian & Mexican Food, World's Wine & Craft Beer, Live Smooth Music
Sign the bill & charge it to your room
Daily - 15:30 - 22:00
Hidalgo Street Downtown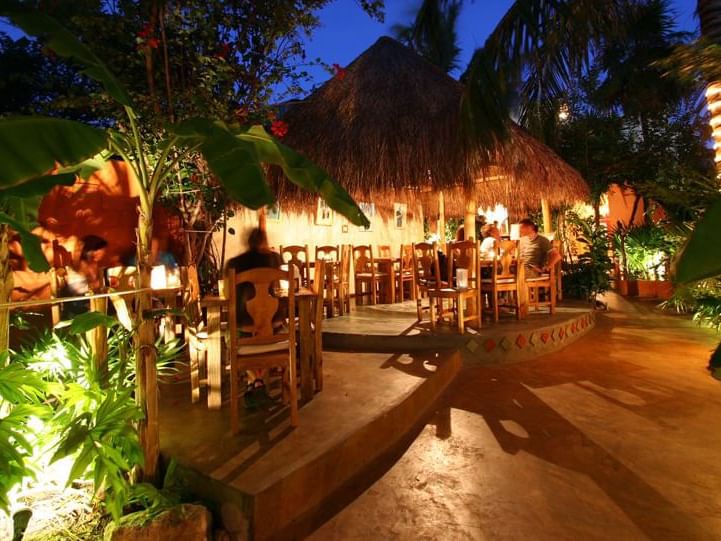 OLIVIA
Restaurant with Greek, Moroccan & Turkish Specialties
Discount Pay Direct (Cash Only) (Reservation Required)
Monday to Saturday - 17:00 - 21:45
Matamoros St., Downtown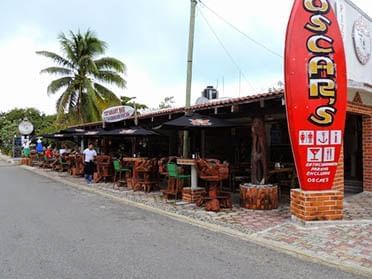 OSCAR'S GRILL
Italian, Mexican, Bar, Pizza
Discount Pay Direct
Daily - 09:00 - 23:00
Carretera Garrafon Km 3.6 S/N Caridad del Cobre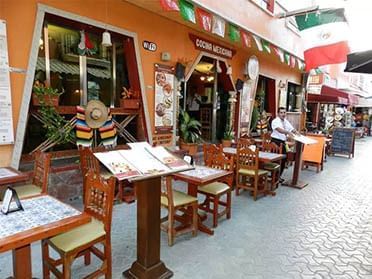 QUBANO
Restaurant Bar with Cuban food & Caribbean Specialties.
Discount Pay Direct
Daily - 15:00 – 22:30
Hidalgo street Downtown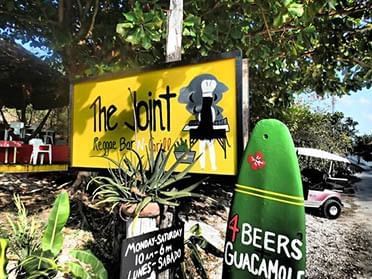 THE JOINT
Reggae Bar & Grill
Discount Pay Direct
Daily - 10:00 – 21:00
Southwest Road, South Point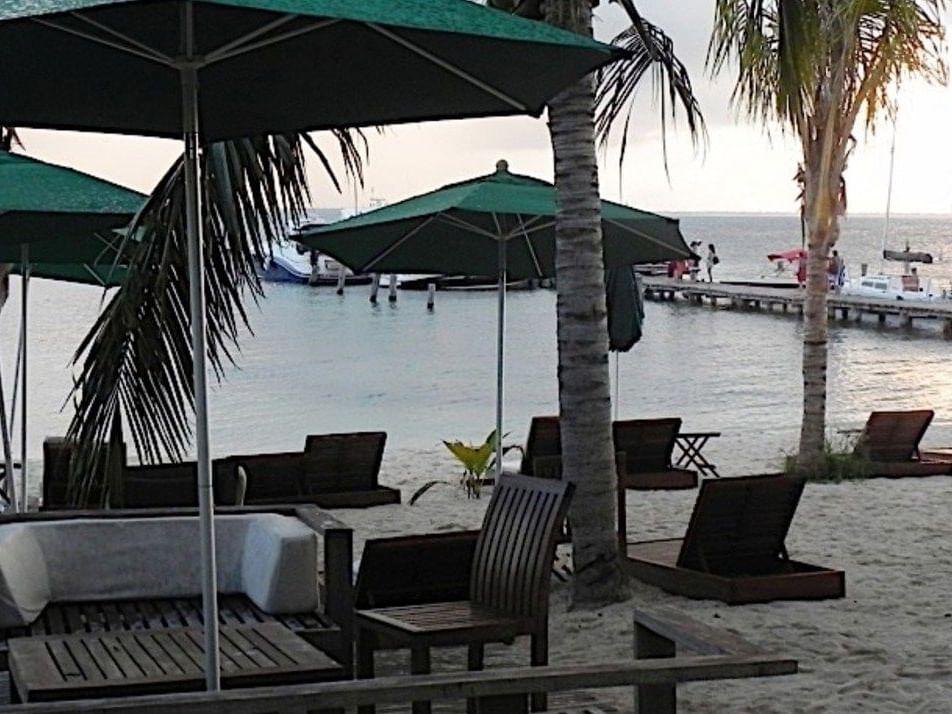 ZAMA
Beach Club with International & Regional Kitchen
Sign the bill & charge it to your room
Daily - 11:00 - 18:00
West Shore Road, Sac Bajo